Tubshroom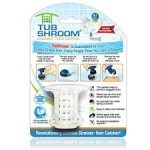 I know what you are thinking…."Another product endorsement"? Well, the answer is yes. I am endorsing another product.
This one took me by surprise. The issue we were having is a perpetually clogged drain in the shower due to my long hair. Those basket type hair catchers don't work well, and they are really gross to clean. Because our tub is relatively new, we were concerned about permanent damage, so I did some research.
What I found was the Tubshroom. I got it on Amazon and decided to give it a try. Let me tell you, this thing really works wonders. After a couple of days, I simply wipe my hair off. It is a neat process and doesn't make my stomach turn. Better yet, I have not had to use drain clearing liquids in over a month since I got the product.
It comes in a variety of colors to match your decor, but even if it was only in white, I would endorse this item. If you have hair issues in your bathtubs/showers, try this! It works!
Living a clog-free life,
Shereen Rios BAS, CPT for Focus and Form Fitness
May 23, 2017
by focusandform