Summertime Funnertime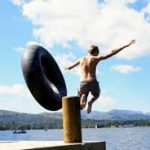 I already know what you are thinking: "Shereen? Funnertime is not a word". I know, I know. However, it SHOULD be. If you can forgive my grammatical liberties, read on. 🙂
This time of year is so special for Pedro and I for so many reasons. First, South Florida takes a breather as far as traffic and volume of people are concerned. Don't get me wrong, we always look forward to the influx of Northerners. Conversely, it is refreshing to be able to go 2 miles down the road in less than a half hour. Those of you who live in a seasonal area can relate, I am sure.
Second, Pedro and I will be celebrating our first year anniversary in the beginning of June. While it may seem that we have been married forever, our marriage license says differently. I am truly blessed to be Pedro's wife, and I cherish our lives together.
Thirdly, we are ready for weekend fun. We work so hard during the week, that we really take advantage of our weekends. For us, that means we go to the beach for an hour, take a little break from the sun, and finish the day at our pool. We are so blessed to live on the ocean, and we take full advantage of it.  The little things in life make me happy, so I am very excited to blow up my new ocean float. Ahhhhhhh, summertime, funnertime. 🙂
Enjoy the rest of May, and go out and do something fun.
With Sunny Regards,
Shereen Rios BAS, CPT for Focus and Form Fitness
ps. For those of you who are keeping track, we are still waiting for permits for our bathroom project. Yes, the downside to living in Florida is waiting for inordinate amounts of time for small tasks to be done. I will keep you posted.
May 18, 2016
by focusandform