SUMMER FUN FOR US!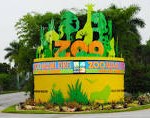 Last week, it occurred to us that we rarely do something fun locally. Sure, we do great things when we go on a vacation, but we were lacking local fun. When one of my clients went to Africa on a safari, she sent us pictures. AHA! We got inspired. We decided to take a trip to our local zoo! In our case, we are blessed to be less than an hour from the Miami Zoo.
We left our house at 9:15 am. last Sunday, stopped for a fabulous breakfast (it was more fabulous because there was no kitchen for me to clean afterward), and made it to the zoo by 11:15 am. As soon as we walked in, we were excited. Sure, it was a 90 degree day, but we were surrounded by such excitement that we barely noticed (the "human sprinklers" throughout the zoo didn't hurt either). We got our souvenir cups filled with beverages, and we were off! The first stop was the children's zoo. I had never been there before, and boy, was I glad we went. It was here that Pedro and I got to ride a camel! How cool. We were in Miami riding camels.
After that, we went through the various continents that the zoo has laid out to watch the animals. The monkey family were certainly the most entertaining, but my goodness. To be up close to a giraffe, a lion or an elephant is just such a treat. When we got hot, we boarded the monorail for a zoo tour. (It is air conditioned.)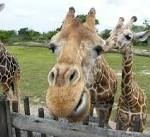 Toward the end of our zoo experience, Pedro fed the parrots. Being afraid of birds, I opted out and became the photographer. It was there that a green parrot fell in love with my husband. It landed on his shoulder, and kept roaming from shoulder to shoulder. There was also a blue one affixed to the feeding cup that Pedro was carrying around. It was quite a sight. Luckily I am not the jealous type, and when the zoo keeper told us that the birds were feeding on the salt content of Pedro's sweat I was finally convinced that the birds were not trying to steal my man. 🙂
One of the last things we did was to attend the show in the amphitheater. It was the usual zoo thing with the parrots doing tricks at first. Don't get me wrong. We loved hearing the birds imitating farm animals and making human sounds. It was just that the birds were trumped by the next two displays.
When the trainer asked who liked snakes, a few lonely hands raised. When she explained that a giant albino python was about to come out, and she needed audience volunteers to help hold it, my hand shot up. You may not expect that of me, but from time to time I put on my big girl panties and do something that I would otherwise consider totally insane. Clearly, this was one of those times. Talk about muscles and beauty in one (other than my husband, of course). The vivid yellow and white color was breathtaking, and it was so strong that we had a hard time controlling it. We managed, pictures were taken, and the next animal came out: a cheetah. So beautiful, strong and keenly aware.  I was glad there were no volunteer interactions with this presentation, lest I be mistaken for dessert.
Our day ended at the zoo at around 5 pm. We saw each and every exhibit, smelled like the animals, and had a wonderful layer of zoo dirt on us, but we were smiling. We concluded that we needed to make more of an effort to enjoy our local attractions, and we plan on doing just that. Next up? We think it will be the Everglades for a swamp boat ride.
Why am I sharing our zoo story with you? It all comes back to the idea that we are never too old to have fun and try something new or face a new adventure. Sure, we were probably the only adult couple without a stroller and a screaming child in tow, but why should that limit us? It never has before, and G-d willing, it never will.
In The Spirit of the Eternal Child in ALL of Us,
Shereen Rios BAS, CPT for Focus and Form Fitness
August 12, 2015
by focusandform