Spring is Springing!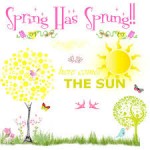 It seems that right on time, Spring has sprung. For those of is in warm weather states, the impact is not as great as you "Northerners". In fact, to us, it means we need to get ready for several months of HOT HOT HOT! Rather than planning outdoor activities, we begin to look for ways to stay active indoors. However……
For those of you who are looking forward to wearing shorts and tank tops, get ready for action! Take advantage of this time of year, when the trees start to bud, flowers begin to grow, and your energy is blossoming with the foliage.
This is the time to start planning for your "coming out". Choose a new activity this year. Something you have always wanted to do but never bothered with, or something you thought you could never do. Set goals. Maybe that marathon in September is achievable this year. The key to success is planning for success. If you wait until 2 weeks before an event, it is far too late.
So, my friends, I implore you to create a plan TODAY. Don't wait. Get a bunch of colorful dry-erase markers, and write your goals on your mirrors. (These markers wipe off with some water and paper towels, but test before you write). As always, I am an advocate of creating smaller goals to lead up to the main event. It doesn't matter WHAT your event is….Just start planning for it NOW!
Let us know your goals…How you plan on making them happen….What pitfalls you come across……What your successes are…….And always reach out to us if you need help. We are here.
In Health and Wellness,
Shereen Rios BAS, CPT  for Focus and Form Fitness
March 30, 2016
by focusandform