Matzoh Lasagna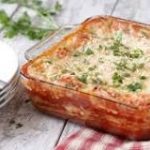 One of my favorite holiday recipes that people always request the recipe for. You can make this all dairy, or a combination of meat and dairy if you prefer. A 9X9 cake baking pan is preferred to accommodate the expanding matzoh, but you can use an 8X8 if that's all you have. Happy Passover!
INGREDIENTS:
4 full boards of matzoh
Cheese Filling:
16oz. part skim ricotta cheese
2 eggs
1/2c. Parmesan cheese
1/2 tsp. garlic powder or fresh chopped garlic to taste
1/2 tsp. onion powder
1/2 tsp. Italian seasoning
1/2tsp. salt
pinch pepper
Meat Filling:
1/2lb. chopped meat (I use beef or turkey)
1/4 onion, chopped
1-2 cloves chopped garlic
1/2 tsp. dried parsley
1/2 tsp. salt
1/2 tsp. Italian seasoning
pinch of pepper
Sauce:
4 cups of your favorite marinara sauce (homemade or store bought)
Topping:
1 cup shredded mozzarella cheese (I use part skim)
DIRECTIONS:
Preheat oven to 350 degrees
If you are using ground meat as a layer, cook all of the meat filling ingredients and drain
Combine all of the cheese filling ingredients together
On bottom of pan, spread a thin layer of sauce
Spread cheese filling on a whole board of matzoh and put it in the bottom of the pan, filling side up
Put a whole matzoh board on top if you are planning to add a meat layer. If you are not using meat, spread another board with the cheese mixture and place on top.
The third layer is cheese if you are using meat as well, so you have one cheese layer, one meat, and a third cheese. If you are using only cheese, all three layers will be cheese, so visually divide your cheese mix in thirds.
Place the 4th matzoh board on top
Pour the remaining sauce over the top. It will look like it's swimming in sauce, but that is what will give the matzoh the lasagna texture. (The matzoh absorbs all of the sauce while cooking)
Cover with foil, and bake for 45 minutes.
Take out of the oven, add mozzarella cheese on top and broil until just browned
ENJOY!
I am not including nutritional information with this, because it will vary depending on the ingredients you use. I know you are smart enough to do the math if you need to!
Happy Eating,
Shereen Rios BAS, CPT for Focus and Form Fitness
March 30, 2018
by focusandform