Homemade Baked Whole Wheat Tortilla Chips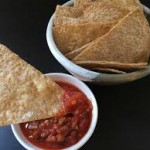 Simple to make, impossible to resist, low in fat, high in taste.
These tortilla chips have been preferred over the store bought ones at almost every party I have made them for. You can use whatever brand of pre-made soft tortillas you prefer. Calorie counts will vary depending on the brand and size of tortillas that you use, but the math is easy!
INGREDIENTS:
1. Soft whole wheat tortillas. Any size will do, but I find that the fajita size is perfect.
2. Spray olive oil
3. Spice mix of your choice
INSTRUCTIONS:
1. Take out oven racks and preheat oven to 350 degrees (I use the toaster oven for small batches)
2. Use a large cutting board for the next few steps
3. Spray one side of a tortilla, and place spray side up on board. Evenly sprinkle spices on top
4. Continue with the same pattern, stacking the tortillas on top of each other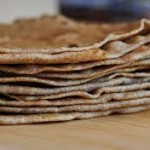 5. Press down stack lightly. This will more evenly distribute the spices.
6. With a sharp knife, cut through the stack of tortillas, making 8 equal pieces per tortilla (like a pizza)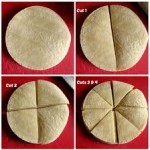 7. Separate and spread tortilla "wedges" on oven racks and place into oven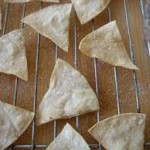 8. You don't need to flip these over while they are baking, but you may need to rotate the racks one time for even coloring while baking
9. Baking time will vary, depending on the moisture content of the tortillas. Check after 10 minutes by taking one chip out and letting it cool. They crisp when they cool. If they are to desired crispness, take out of oven and cool completely before serving. If there are any leftovers (doubtful), storing in the refrigerator will make them last longer. Just make sure they are in a moisture proof bag or container.
NUTRITIONAL INFORMATION:
Varies by the brand and size of tortillas you use. Each tortilla makes 8 pieces. You can consider this one serving. Of course if you are eating these with a dip, you need to count the calories in the dip. To keep this a really low calorie, low fat snack, serve with your favorite salsa (also REALLY easy to make).
For lunchbox or holiday fun, use fun-shaped cookie cutters instead of the knife. Kids of all ages will love them!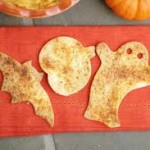 Enjoy!
Shereen Rios BAS, CPT for Focus and Form Fitness
September 20, 2015
by focusandform