Halloween Party Treat Ideas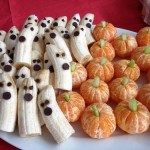 Entertaining This Year? Try Some of These "Spooky Treat" Ideas!
1. Clementine Pumpkins and Banana Ghosts
See picture above. This one's a no brainer. Peel some clementines and use small celery pieces for the stems. Peel         banana and use mini chocolate chips for the eyes and a larger chocolate chip for the mouth.
2. Candy Corn Veggie Tray
Again, fairly self explanatory. Simply use veggies that match the color of a piece of candy corn.
3. Ghost and Goblin Tortilla Chips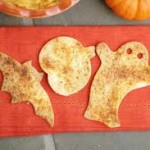 How cute are these? Use Halloween cookie cutters to make desired shapes out of tortillas. Bake at 350 until                   crisp. Let cool and serve with your favorite dip.
4. Mummy Wrap Pigs in a Blanket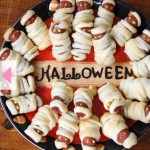 Use turkey hot dogs for these. Any pre-made dough will work. Cut the dough into thin strips and wrap around             the "tube meat" of your choice. Perhaps not the healthiest choice, but really cute on a table.
5. Upchucking Watermelon Pumpkin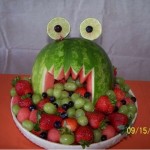 Self explanatory. Have fun with this one. If you add a witch's hat to the melon and place the eyes differently, it             can be an upchucking witch.
6. Grape and Blueberry Spiders
Use a large black grape for the center of the spider. You can also make this a large spider by using a plum for the         center and grapes for the legs. For small spiders, insert toothpicks into the center grape and thread with                         blueberries. To make the legs go down, insert another toothpick into the bottom of the "leg" and thread with                 more blueberries. For the larger version, you can use celery strips to make the legs. The eyes are dabs of cream             cheese.
7. Apple Monster Mouths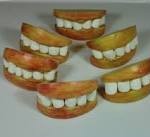 Slice apples into wedges, remove cores, spread peanut butter on inside of each "lip", and use mini marshmallows         for the teeth. You can use peanuts for the teeth as well, using broken pieces to simulate broken teeth.
8. Cheese and Pretzel Broomsticks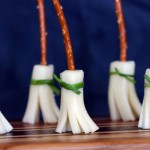 Use cheese sticks for the bottom broom part. Different types and colors of cheese will make it more festive                     looking. Pretzel sticks make up the stick, and the green of a scallion are the ties. Cut the cheese sticks into                     smaller pieces, and use a knife to make it look like a broom.
9-9999999999.
Use your imagination and come up with your own creative ideas. Host a party and have every guest come with their own spooky treats, or just make your kids' meals more fun for the holiday. Remember that food coloring can be used to transform almost any item into something really fun.  I like making cups of "black pudding", with "blood" dripping on top. Be sure to use clear plastic cups for the most dramatic effect. (To make this, use a "white" pudding mix, black, and red food coloring. Make the "white pudding first, reserving a small amount to add the red to for the drizzle on top. Add black food coloring into the pudding, pour into cups, and drizzle with the red mix.)
Have fun, and have a spooky Halloween! Be sure to send me your favorite Halloween treat pictures and recipes.
In Spookiness,
Shereen Rios BAS, CPT for Focus and Form Fitness
October 19, 2016
by focusandform