Frozen "Fruitsicles"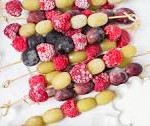 These are a great way to get your sweet tooth satisfied while keeping health in mind.  Kids love creating and eating them as well. Make it a family project! I make them with lollipop sticks rather than skewers for safety reasons, but you can use mini ice cream sticks as well as disposable skewers.
INGREDIENTS:
1. Seasonal fruit of your choice
2. Lollipop sticks  (you can buy them on Amazon)Here is the link:
 http://www.amazon.com/s/ref=nb_sb_noss_1?url=search-alias%3Daps&field-keywords=lollipop+sticks
3. Freezer space
INSTRUCTIONS:
1. Wash a dry fruit(s)
2. If necessary, cut fruit into bite sized chunks.
3. Poke sticks through fruit, leaving enough room to hold on the bottom.
4. Freeze sticks on a cookie sheet. When frozen solid, you can place the fruit pops in zip freezer bags.
5. Eat.
NUTRITIONAL INFORMATION:
Depends on the fruits you choose, and the amount of fruit per pop
Happy Eating!
Shereen Rios BAS, CPT for Focus and Form Fitness
September 2, 2015
by focusandform