Fall Workout Time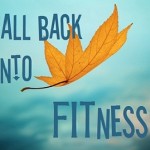 It's Fall, and it's decision time. Your summer workouts are over, and now you need to decide how to shift into Fall mode. This is the perfect opportunity to get outside. For most of you, Fall affords you the perfect opportunity to workout outside your 4 walls, and get some fresh air. What will be your activity of choice?
If you have always wanted to start a walking program or a running program, now is the time. How about trying something a bit more edgy like roller blading? Park workouts are at an all time high in the Fall. Even walks on the beach are more fun this time of year. The weather is just perfect, so again I challenge you to get outside and get moving. Those of you who are already in a great fitness plan, you may want to spice things up as well.
Download your favorite tunes, and head out the door!
What do you have to lose? Perhaps the answer is a few pounds.
In Fitness, Health and Wellness,
Shereen Phillips BAS, CPT for Focus and Form Fitness
September 9, 2014
by focusandform