EASY MINI ROASTED PEPPERS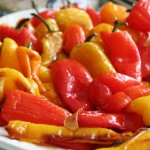 This is probably one of the easiest recipes I will ever recommend, but also one of the best. I make these in my toaster oven for convenience, but you can use a regular oven as well. I keep the seasoning simple with just salt and pepper, so I can use the peppers for whatever I want to later. They will keep for about a week in an air-tight container in the refrigerator. You can sprinkle balsamic vinegar and olive oil on top of them, or just pop them plain (like I do).
Ingredients:
Raw Mini Peppers (I buy the bags of tri-colored peppers)
Raw Garlic Cloves (optional)
Non-stick Cooking Spray
Salt and Pepper (or whatever spice you choose)
Directions:
Pre-heat toaster oven or oven to 350 degrees.
Line a cooking tray with foil.
Wash and dry peppers. Do not cut them.
Place peppers on tray. Leave a bit of space so you can turn them if you want to.
Spray non-stick spray on peppers (and garlic cloves if you wish)
Sprinkle with salt and pepper (or whatever seasoning you want)
Flip peppers over and do the same.
Roast in oven for 10 minutes
Flip peppers over, and roast for additional 10 minutes. Turn oven off and leave door closed for 5-10 minutes.
Peppers will finish cooking in the hot oven once it is turned off.
Salt and Pepper
Nutritional Information: This is for the plain version, and 3 peppers.
Calories: 28
Fat: 1g.
Bonus Nutrition: Vitamin A: 35%, Vitamin C: 270%
July 3, 2014
by focusandform