Why I love Halloween
What do you call a witch that lives on the beach?
A SAND-WITCH!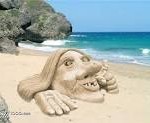 Halloween 2015 is just around the corner, so I thought I would share with you why I love Halloween.
When I was a small child, I remember my mother making costumes. I was a princess, or whatever my whim of the year was. When I put the costume on, I was magically transformed into whatever character I was portraying. coming home with a plastic pumpkin filled with candy was the icing on the cake. (I should note that in those days, it was relatively safe for kids to go from house to house asking for candy.) It was always sad when I had to take the costume off, but I knew there would be another one the next year. I could count on it.
When I was a teenager, it was not "cool" to trick-or-treat. The "cool" thing to do was to toilet paper someone's house or throw eggs at small unsuspecting children from behind a rock. I was never comfortable doing either of the aforementioned things, so I lost Halloween for some time.
When I got to college, Halloween became "cool" again. We dressed up in imaginative costumes and went to "adult parties". Sometimes, we would choose a group theme and go in a small cluster of theme-based young adults. It was so much fun, it was hard to imagine why we ever stopped dressing up.
Fast forward a good number of years (over 30 later), and we are in the present day. I have to admit. I LOVE Halloween. It is the one time a year that I can be whoever I want to be. My costume choice in recent years has combined all of the things I love. I have dressed like a baby. I put my hair in high pigtails, put on bright, innocent looking make-up, don a giant bottle filled with the beverage of my choice, and best of all I wear footsie pajamas ALL DAY!
You may be asking yourself: "Why is she sharing this with you?" By this time, if you have read any of my posts, you know that oftentimes, I think adults do not channel their inner-child nearly enough. It is difficult for some, and others are so absorbed in their "grown up worlds" that this concept vanishes completely.
Here's the thing: ONE time a year, go be someone or something else. Forget your every day worries, get in a costume, and just have some fun! Halloween gives you permission to do this. You will see the reaction you will get from other adults. You will make them smile, and in turn, you will smile. There is an inherent joy in bringing joy to another person. This is your opportunity. Seize it and have FUN!
If you need costume ideas, feel free to browse my pins on Pinterest. I found some great do-it-yourself concepts:
https://www.pinterest.com/focusandformfit/innovative-halloween-costumes/
Happy Halloweening!
Shereen Rios BAS, CPT for Focus and Form Fitness
October 14, 2015
by focusandform