Trash into Treasure- Carcass Soup
I know this sounds really gross, but…..Some of the best soups I have ever made have come from what most people throw out.  I remember Grandma Smith ALWAYS saved the carcass. First she would nibble meat off of it, and then it would become a delicious soup base. In her memory, I share this concept with you.
Turn THIS: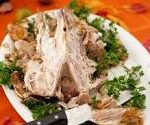 Into THIS: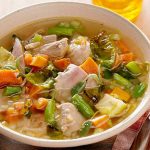 INGREDIENTS:
Carcasss or bones from ANY animal
Fresh chopped veggies (whatever you have, but always include the basics of:
Onion
Carrots
Celery
Parsley or Cilantro if you prefer
DIRECTIONS:
Saute the chopped veggies in olive oil until soft
Chop the carcass into manageable pieces and add to pot
Add water so carcass is totally submerged
Bring to a boil
Let simmer for a couple of hours
Add salt and pepper to taste
That's the whole thing. You will have a very rich stock with veggies. Add noodles or whatever else you wish, and turn your trash into treasure!
Happy Eating,
Shereen Rios BAS, CPT for Focus and Form Fitness
January 17, 2017
by focusandform