Granite Ware Chicken and Pork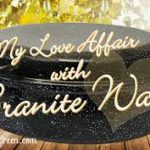 This old kitchen tool is one of my favorites, so I thought I would share it with you. I am not going to publish a specific recipe, because this tool is so versatile, you will find a million uses for it. I will, though, give you the basic concept:
Buy a granite ware pot with lid. I bought my newest one at Walmart, and it was very reasonably priced. They make some with racks which is also useful, or you can get one that your current rack fits into.
The key for me is that I bought a pot that fits into my toaster oven. I use this more than my regular oven for several reasons:
It gives off less heat
It uses less electricity
It fits the perfect sized pots and pans as well as full-sized chickens and pizza
I digress…….
You want to choose fattier cuts of meat if you are using a rack, because the fat will drain to the bottom of the pot, but give the meats a great flavor. I use chicken thighs a lot, as well as cheaper pork cuts. Sometimes, I go wild and use BOTH in one pot.
Season your meat well before adding to the pot in a single layer. I add lots of veggies all around the meat, as well as fresh herbs. To be honest with you, I take whatever vegetables that may go bad in a few days (as well as dehydrated (or fresh)garlic and slices of onions) and in they go. I keep the seasonings very simple using mostly salt, pepper and Italian seasoning. Obviously, you add whatever your taste buds crave.
I preheat my oven to 425, and put the covered pot inside for 15 minutes. I lower the heat to 30 and continue cooking the meats for about another 45 minutes. Slow cooking makes the meat VERY tender. In fact, you can make pulled chicken, beef or pork this way. Just add your sauces after pulling the cooked and cooled meat.
If you want to share specific recipes with me, or if you have other cooking ideas for Granite Ware, please share away.
With Healthy Cooking in Mind,
Shereen Rios BAS, CPT for Focus and Form Fitness
August 2, 2017
by focusandform