Asparagus Wraps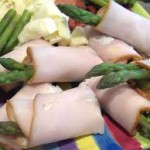 It's asparagus season, so what could be better than asparagus wraps for snacks? They are low in calorie, delicious, and full of vitamins as well as a natural diuretic.  The above photo shows turkey wraps, but they are also delicious with other cold cuts.
INGREDIENTS:
1 pound of asparagus steamed, but still bright green- about 3 minutes (When I buy them, I cut off the bottom inch and pare about another inch and a half for tenderness)
1/2 lb. of cold cuts (or more if you are making bigger wraps)
1/8 lb. of cheese (I use sliced Jarlsberg Light, but any light Swiss will do)
INSTRUCTIONS:
This one's easy. When the asparagus is cool, wrap it with cheese first, then the cold cuts. You can add mustard, mayonnaise, or whatever other spreads you choose to the wraps, or simply have a dip on the side (which I prefer).
NUTRITIONAL INFORMATION:
This information varies with the type of cold cuts, cheese, and sauces you choose. The asparagus per spear is about 3 calories, so this is really a very healthy choice as well as a delicious one.
March 30, 2016
by focusandform